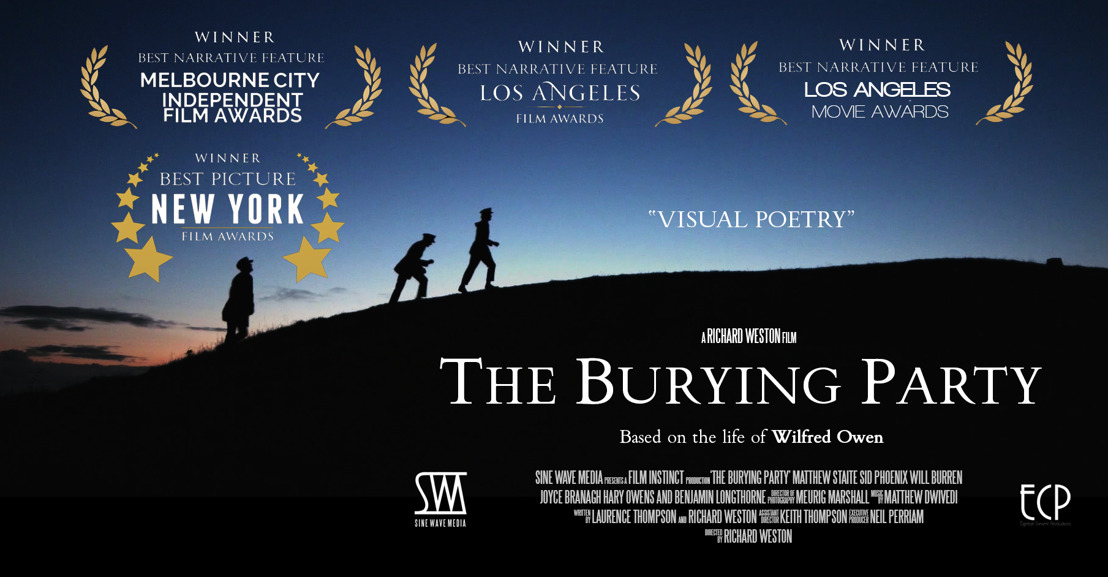 New Wilfred Owen Film Scoops Fifteen Festival Awards
The Burying Party wins across the United States and Melbourne
Tuesday, April 10, 2018 — A Wirral-based film company, Sine Wave Media, has made a huge impression on the international stage with a film about Wilfred Owen that has won 15 awards including Best Narrative Feature at the Los Angeles Movie Awards and Best Picture at the New York Film Awards.
The Burying Party focuses on a fascinating final year for Owen, meeting such literary heavyweights as Robbie Ross, Charles Scott Moncrieff, Robert Graves and of course, his mentor, Siegfried Sassoon. In addition, he returned to the front after assessing his war record and existing poetry, earning the Military Cross for an attack at Joncourt where he captured an enemy machine gun.
On November 4th 1918, he finally fell at the Sambre-Oise canal in the culmination of The Somme campaign near Ors in France.
Filming took place In Wirral, Liverpool, Edinburgh and North Yorkshire in September followed by a November of the war scenes staged in specially prepared trenches in Suffolk and Wrexham. The cellar of the Bombed Out Church on Leece Street was used to depict Wilfred Owen's final bilet where he wrote his moving letter to his mother, Susan. The Athenaeum in School Lane was the location for Robbie Ross' famous house on Half Moon Street in London.
Writer and Director Richard Weston is originally from Wallasey and a former pupil of Calday Grange Grammar School. He said: "The casting was rigorous, and we needed a team that could carry the weight of such a powerful story. Wilfred Owen (Matthew Staite) is a fascinating character who has never been truly realised. Dominic Hibberd's biography is immensely important in underlining his sexuality, which had a huge influence on his work.
It has been a very encouraging month of recognition. The cast and crew have been justly rewarded for their huge effort and talents. If we have exported the work of such a great writer to the international community then we have reached a major objective."
The film includes actors such as Sid Phoenix (Florence Foster Jenkins) and Joyce Branagh, alongside the support of Andrew Caley (Peaky Blinders) as Robbie Ross.
The Burying Party will be screened in the first week of November, 100 years after his death. The film will have special showings in regions that were significant to Owen during his life namely Birkenhead, Oswestry, Shrewsbury, Edinburgh, East London and of course The Somme.
Weston added: "We are still crowd funding, mainly to enter as many key festivals as we can and also to receive a rating from the Motion Picture Association of America. We have raised the £15k to make the film through crowd funding campaigns and through our own resources but now we need to put icing on the cake."
The full awards list reads:-
| | |
| --- | --- |
| Category | Festival |
| Best Picture | New York Film Awards |
| Best Supporting Actor | New York Film Awards |
| Best Cinematography | New York Film Awards |
| Best Sound Design | New York Film Awards |
| Best Actor | New York Film Awards |
| Best Narrative Feature | Los Angeles Movie Awards |
| Best Director | Los Angeles Movie Awards |
| Best Costume Design | Los Angeles Movie Awards |
| Best Production Design | Los Angeles Movie Awards |
| Best Narrative Feature | Melbourne City Independent Film Awards |
| Best Supporting Actor | Melbourne City Independent Film Awards |
| Best Narrative Feature | Los Angeles Film Awards |
| Best Cinematography | Los Angeles Film Awards |
| Honorable Mention - Actor | Los Angeles Film Awards |
| Honorable Mention - Director | Los Angeles Film Awards |
| Selected to Premiere | Madrid International |
To find out more about the film and the fundraising push visit www.theburyingparty.com or Twitter and Facebook
Keith Thompson The Burying Party, Sine Wave Media Ltd