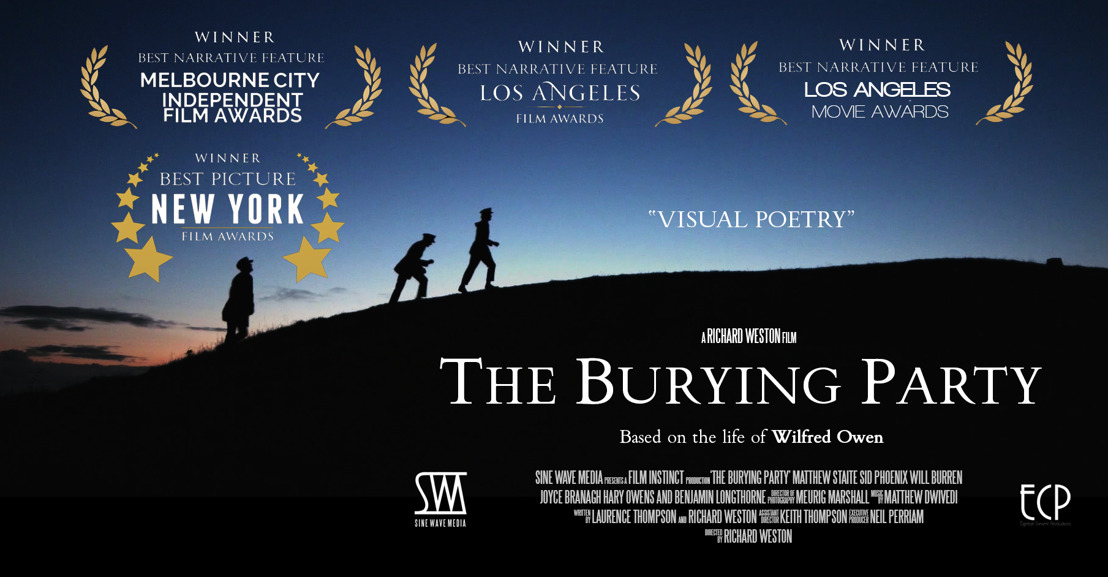 New Wilfred Owen Film Wins 'Best Feature' at Major London Film Festival
The Burying Party tells the story of the greatest war poet's final year
Sunday, September 2, 2018 — A film about the life of Wilfred Owen has won 16 awards including Best Feature at the New Renaissance Film Festival, London and the production team are now committed to finding a mainstream channel to screen the film in time for the 100th commemoration of Wilfred Owen's death on 4 November 1918.
The Burying Party focuses on a fascinating final year for Owen, meeting such literary heavyweights as Robbie Ross, Charles Scott Moncrieff, Robert Graves and of course, his mentor, Siegfried Sassoon. In addition, he returned to the front after assessing his war record and existing poetry, earning the Military Cross for an attack at Joncourt where he captured an enemy machine gun.
On November 4th 1918, he finally fell at the Sambre-Oise canal in the culmination of The Somme campaign near Ors in France.
Filming took place in Wirral, Liverpool, Edinburgh and North Yorkshire in September, and in November the crew took to specially prepared trenches in Suffolk in order to film war scenes. Owen spent a large part of his final year in East London, including Whitechapel, Shadwell and Stepney Green, and the story came full circle with its UK Premiere in Shoreditch.
Writer and Director Richard Weston trained at East 15 Acting School in Loughton, and lives in East London. He said: "The casting was rigorous, and we needed a team that could carry the weight of such a powerful story. Wilfred Owen (Matthew Staite) is a fascinating character who has never been truly realised. Dominic Hibberd's biography is immensely important in underlining his sexuality, which had a huge influence on his work.
The cast and crew have been justly rewarded for their huge effort and talents on the world stage. Now we are looking to find the right way to celebrate his life on the 100 year anniversary."
The film includes actors such as Sid Phoenix (Florence Foster Jenkins) and Joyce Branagh, alongside the support of Andrew Caley (Peaky Blinders) as Robbie Ross.
The Burying Party was screened at the New Renaissance Film Festival, which championed The Silent Child on its road to winning Best Live Action Short at the Oscars last year.
Weston added, "There were sensational films in the programme. New Renaissance is one of the leading independent festivals in Europe, so it is an honour to win this award. We are now actively seeking a mainstream screening of the film in time for November."
Having premiered in London, further public showings will begin in the first week of November, 100 years after his death. The film will have special showings in regions that were significant to Owen during his life namely Birkenhead, Oswestry, Shrewsbury, Edinburgh, East London and of course The Somme.
The full awards list reads:-
| | |
| --- | --- |
| Category | Award/Festival |
| Best Feature | New Renaissance Film Festival London |
| Best Picture | New York Film Awards |
| Best Supporting Actor | New York Film Awards |
| Best Cinematography | New York Film Awards |
| Best Sound Design | New York Film Awards |
| Best Actor | New York Film Awards |
| Best Narrative Feature | Los Angeles Movie Awards |
| Best Director | Los Angeles Movie Awards |
| Best Costume Design | Los Angeles Movie Awards |
| Best Production Design | Los Angeles Movie Awards |
| Best Narrative Feature | Melbourne City Independent Film Awards |
| Best Supporting Actor | Melbourne City Independent Film Awards |
| Best Narrative Feature | Los Angeles Film Awards |
| Best Cinematography | Los Angeles Film Awards |
| Honorable Mention - Actor | Los Angeles Film Awards |
| Honorable Mention - Director | Los Angeles Film Awards |
| To find out more about the film, visit www.theburyingparty.com or Twitter and Facebook | |
Keith Thompson The Burying Party, Sine Wave Media Ltd