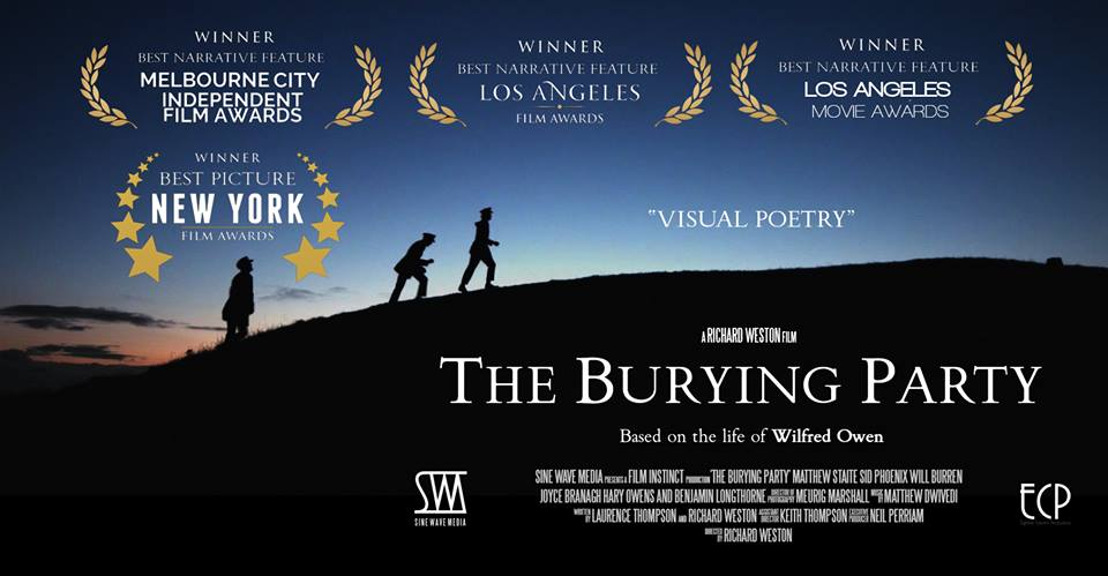 Wilfred Owen Film is Released Online Worldwide
Viewers in the United States and Europe can now view the Wilfred Owen film
The Burying Party, a film about the final year of war poet Wilfred Owen, has now been released on US Prime.
The film directed by Richard Weston that has won 16 film industry awards depicts Owen's tumultuous 12 months where he mixed with the literary luminaries of the era and then rejoined action on the front where he led an assault at Joncourt, but was eventually killed five weeks later at the Sambre-Oise Canal on 4th November 1918.
The themes of acceptance, love against a backdrop of turmoil remains topical during these times and a reminder about human fortitude against the horrors of conflict.
Owen's sexuality, not a subject previously tackled in film, was embraced in Director, Richard Weston's sensitive treatment of the subject.
Richard said: "The level of detail the actors went into was stunning. Matt's performance is a real credit to the work they all put in together to recreate the world of Wilfred Owen.
"A very important thing for us was to share the story to as wide an audience as we could. This release means it can be seen anywhere in the world."
Matthew Staite who played the lead role said:  "It's such a joy for people for people to be able to see it and hear his poems perhaps for the first time. Wilfred Owen was a unique person to depict and research and I hope our production has done his poetry and his life justice."
Matthew Staite played Owen while Sid Phoenix took the part of his mentor, Sassoon. Joyce Branagh played Susan Owen.
Both Richard and Matthew studied Acting at East 15 Acting School in East London.
The film has received plaudits at the festivals including Best Feature at the New Renaissance Film Festival London. It has also received favourable reviews on the industry website IMDb and on Prime itself.
The Burying Party is also available on Vimeo on Demand and the European wing of Amazon Prime #wilfredowenfilm
ENDS
Note to Editors
1. A trailer and also a clip in mp4 format can be downloaded below as well as a comprehensive film bio for background information.
2. You will also find a selection of copyright free high resolution pictures which you are welcome to download and use in the context of this film's promotion.
3. Richard Weston would be available for interview. Please contact PR Manager, Keith Thompson +44789 266 2634 in the first instance to arrange.